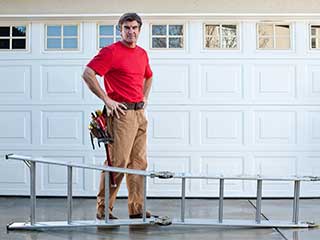 The garage door, like the car it protects, is a mechanical product that needs regular checkups and service in order to function properly. Like the saying goes, an ounce of prevention is worth a pound of cure.
Proactive Maintenance
As you may have already heard, a malfunctioning garage door can cause damage to your property or even injure you or your loved ones. This is why you need to take care of your door and schedule regular maintenance. In order to identify any existing or potential problems, our technicians will visually inspect the door and pay attention to any audible noise it may make, check that everything is running smoothly and that door weight is appropriately balanced, check and/or adjust the tension in springs and cables, make sure travel limits are set correctly, test photo sensors and the auto-reverse feature. They will recommend the best course of action, and with your approval, perform necessary repairs or replacements, if any.
Garage Door Spring Replacement
Resolving problems caused by garage door springs is what you need professionals for! Springs are under constant tension and tackling this problem without the know-how and appropriate tools can and will lead to damage, injury or even death! Sometimes they only need adjusting - in other words, their tension needs to be either increased or decreased. However, when a spring is broken, or shows signs of deterioration, it needs to be replaced. We strongly advise changing both springs, even when only one needs replacing at that time, because the combination of one new and one old spring can cause an uncorrectable imbalance in the door.
Garage Door Opener - Repair or Replace?
The average lifespan of garage door openers is 10 to 15 years. Some last longer, and others don't even make it to the 10 year mark. How long yours will last depends on several factors, such as: which opener drive type you have, how often you operate your door and whether you take proper care of your system. You have to bear in mind that modern openers tend to be not only safer, but quieter and more convenient than older models. Our professionals will inspect, lubricate and test your door, and help you decide what option works best for you. Call Garage Door Repair Roseville now!
Need more? We also provide:
Liftmaster Garage Door Maintenance
Belt Drive Garage Door Openers
Garage Door Extension Spring Replacement
Overhead Door Installation