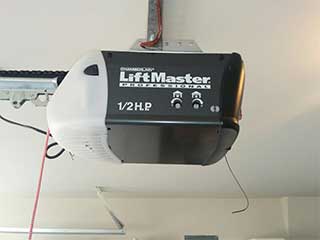 When garage door openers don't work the way that they are supposed to, it's normal for homeowners to get frustrated. If you've tried changing the batteries and turning the unit off and on and the door still doesn't respond then it's time to call in our expert technicians to have them take a look.
There's a Lot of Noise
If it's noisy each time you open and close your garage door then the problem may be in the drive shaft. When this happens and a gear worn-out is responsible then the door will not open. Replacing damaged gears can be delicate procedure, and it's best that you have our experts do it for you to make sure your unit doesn't suffer further damage.
A Frayed Belt
In garage door openers, there is a belt in the motor pulley that will help lift the rail to raise and lower the door. Once a homeowner knows what they are looking for, they can usually identify this broken belt, but when it comes to replacing things can get a little tricky. Having our service professionals replace it before it breaks completely is a smart move.
It Works Intermittently
A garage door opener that works great but only some of the time can be frustrating. Sometimes the fix is as easy as removing something that is blocking the door's sensors, but other times there's actually a problem with the unit's circuitry board. Until the source is found and removed or replaced, your door will continue with its "wishy-washy" ways.
No matter how long you've had your problem for or what you think is causing it, getting our professional repair technicians to come over and take a look at your opener is the best solution. Call our team at Garage Door Repair Roseville today, and you'll be able to rest easy knowing that we'll perform the necessary repairs and we'll get your system back into a perfect shape in no time.
We also offer the following:
Roll up Garage Door Maintenance
New Opener Remotes & Clickers
Garage Door Cable Replacement
Torsion & Extension Spring Replacement