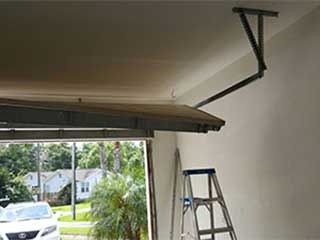 Since garage doors are complex mechanical systems, there are lots of different things that can go wrong with them. When you call on our expert service, we won't just deal with the problem at hand, we're also on the lookout for any hidden potential problems, since the failure of one component can usually damage other ones.
Broken Spring - What Should I Do?
When one of your system's springs breaks, it is safe to assume that the other one's life expectancy is also nearing its end, which is why we recommend replacing both of them at the same time. This will, in fact, save you money on future repairs (not only can the other one fail within days from the first one, but it can also damage your garage door opener in the process!).
Roller Replacement
The performance of these components tends to get louder over time. If you start hearing clicking sounds that means you probably need to replace them. Damaged rollers can cause other problems, such as premature wearing out of drive gears, sprockets and belts. Our experts can help you choose the perfect one for your system. The material rollers are made of determines their lifespan, how quiet they'll be and how much they will cost. Nylon units, for example, tend to be quieter and last longer than steel ones, but are also usually more expensive.
What about Cables?
Cables are made in different gauges and lengths to match different types of garage doors. When one of them breaks, the door will tilt sideways or go off track, and other components can get damaged in the process. You can prevent this if you regularly inspect them for rust and frays. Rust can often be prevented by lubrication, but if it's already visible, it's better to have the component replaced. If you notice any damage, not only should you have our experts install new cables, but you should also have us check the balance of your door. Sometimes spring adjustment can take care of the issue.
Call Garage Door Repair Roseville today, and we will use our professional tools and expertise to get your door back to normal ASAP.
Couldn't find what you're looking for? We also offer:
Garage Door Troubleshooting Services
Garage Door Torsion Spring Replacement