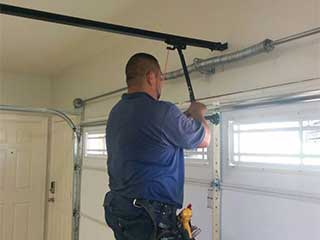 It's common for homeowners to experience different kinds of problems with their garage door springs. You should never attempt to repair these components yourself, as they can be downright dangerous to handle without the proper training. Instead, our Garage Door Repair Roseville experts can easily help with any issues that might be plaguing you. We don't just repair or replace damaged parts, we also provide maintenance service that can help increase your system's lifespan.
Spring Maintenance
There are a few issues that are fairly common with these type of components and our team is well versed in handling them all. A usual sure tell sign is simply not being able to operate your door. You wouldn't want to encounter this problem when you return home from work, and certainly not while you're hurrying to leave in the morning. Professional maintenance routine is a good preemptive measure to take in order to avoid these types of situations, as proper lubrication and tension adjustment will help your springs not only last longer, but stay trouble free as well.
Different Types of Springs
There are two main types of springs – torsion and extension – and we are more than capable to make all the necessary repairs or replacements to both of these variations. It's important that the type your system is using is in fact the one best suited for it, so that your door will operate smoothly and be able to function reliably whenever you need it to.
Reach Out Today!
If you find yourself experiencing spring related issues be sure to let our professional team know. We offer fast and reliable repair services, as well as scheduled maintenance. Remember, our Garage Door Repair Roseville technicians are only a phone call away.
In addition, we offer:
Part Replacement & Lubrication
Genie Garage Door Openers
Oil Tempered Torsion Springs
Emergency Garage Door Services